REWARDED WINES FROM VIGNANO IN TUSCANY

The Fanucci vineyard was rewarded as the best vineyard of the year 2019 in wine branch's own Oscar Gala
(Giachimo Tachi- reward for best oenologist). All Vignano wines are rewarded and biodynamic and
represent Tuscany's best traditions and an ambitious renewal.
L'UNICO is a full-bodied and unique Chianti, with a scent of cherry and red berries, dried fruit and spices. It is an intensive, rich and complex red wine, made of Sangiovese (80 %) and Pinot Noir (20 %).
It accompanies very well beef and veal dished as well as chicken and barbecue
MATRIO is Vignano's 100 % Malbec, a rare grape in Tuscany. This gold medal red wine is complex, with a taste of red berries and spicy fruit as well as aromas of chocolate and fig. Matrio pairs specially well with beef, lamb and veal dishes as well as poultry and cold cuts. A wooden box is available for this special wine.
---
PRIMAVOLTA is Vignano's closely fostered biodynamic white wine, made from an interesting grape combination of Petit Manseng and Viognier (50%-50%) This wine is soft, fresh and rich. It has a long after taste and a scent of apple and pineapple. Primavolta is especially good with vegetables and different pasta dishes and pairs with hors d'oeuvres, white fish and cold cuts.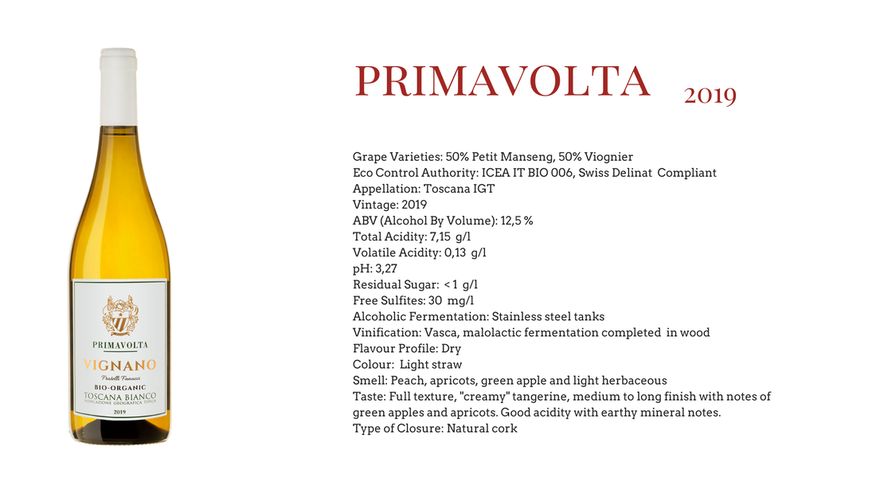 ---


BIODYNAMIC CHATEAU DE CHELIVETTE
​
Château de Chelivette is situated between Bordeaux and St. Emilion. It is one of the oldest vineyards in the area, dating from 17th century. The recent owners have transformed it into a biodynamic vineyard, that produces Demeter classified quality wines with innovation and ambition.


LE CLAIRET DE CHELIVETTE is a so called dark rosé wine, quite rare in France and also in the Bordeaux area. This rewarded fresh and intensive wine is fruity and has a beautiful deep colour of raspberry. Clairet goes extremely well with grilled food, Mediterranean and Asian cuisine, seafood, cold cuts and vegetables. This wine, made of Merlot (85%) and Cabernet Sauvignon (15%) has earned its place between red and white wine in an excellent way.
Region: Bordeaux
Appellation: Bordeaux Clairet
Designation: Clairet
Cuvée: Le Clairet de Chelivette
Colour: Rose
Vintage: 2019
Grapes: Cabernet Sauvignon (15%) / Merlot (85%)
Alcohol content: 14,5%

WINEMAKING:
Biodynamic viticulture. Traditional hand picking.
Temperature-controlled fermentation in stainless steel vats, direct pressing.
Ageing in temperature-controlled stainless steel vats, technical closure cap.
Clay and limestone soil.

​ TASTING
Appearance : Raspberry colour, deep, ruby red highlights.
Nose : Fine, generous red fruit aromas.
Palate: Fresh, round, slight blackcurrant hints, generous strawberry hints, subtle tannin.
SERVING
Serving temperature: Between 9° and 14°
Aging : Ageing until 2024


---
DOMAINE DU TELEGRAPHE, Bordeaux Supérieur is a light and airy red wine, made of 100% Merlot grape. It is, however intensive and balanced and has aromas of exotic fruit. This wine is at its best with vegetables, white meet such as veal, grilled fish and cheeses.
Region: Bordeaux
Appellation: Bordeaux Supérieur
Certificate: AB - Bio (ecocert) Biodynamie (Demeter)
Colour: Red
Vintage: 2019
Grapes: Merlot (100%)
Alcoholi content: 14,5%
WINEMAKING
:
Biodynamic viticulture. Traditional hand picking.
Clay and limestone soil.
TASTING Appearance :
Bright garnet-coloured dark red.
Nose :
Tropical fruit aromas.
Palate:
light, intense, airy
SERVING Serving temperature:
Between 18° and 20°
---
WEINGUT REINHOLD HAART
This VDP vineyard (member of the Association of German Prädikat Wine Estates) has been valued as one of the
​best in the Mosel area.
Weingut Haart lies only a few meters from the Mosel river, on the romantic, peaceful Ausonius riverbank. Immediately behind the family's estate, the Piesporter Goldtröpfchen vineyard begins its uphill climb.
HAART TO HEART MOSEL RIESLING
shows excellent restraint and balance in its acidity and sweetness. This wine exhibits tropical aromas of pineapples and peaches with a spritz of lime. With age, it will start to develop interesting nutty characteristics. This wine will make a good partner for any meal that does not need a bone dry white for company. Great with seafood and spicy dishes and p
airs well with fiery curries and most Thai food.

Region:
Mosel
Wine Style
: German Riesling, VDP
Colour:
Pale yellow
Vintage:
2020
Grapes:
Riesling 100%
Alcohol content:
12%
TASTING Appearance :
Raspberry colour, deep, ruby red highlights.
Nose :
Rich and elegant nose of peaches, blackcurrant and pineapples
Palate:
Refreshing but balanced acidity defines the palate, again with plenty of fruit. This Riesling is easy to sip with a nice grip of minerals in
the finish
.

​ SERVING Serving temperature:
Between 8° and 10°
Aging:
Delicious to drink young as a fresh wine, this Riesling has potential to improve with up to 5 years of cellaring.
---


PREVOST - HANNOTEAUX

The story of Prévost Hannoteaux champagne started in 1941 when two families united through marriage. Today,
this small vineyard in Sacy produces 5 different champagnes, three of which have been rewarded by Andreas
Larsson (The Best Sommelier of the world, 2007).
PREVOST HANNOTEAUX LA RENCONTRE champagne is described as smooth, generous and having an
easy wine structure. This fruity and spicy champagne has a yellow colour with bright, glossy green golden hints.
La Rencontre is a Champagne for aperitif and meals, ideally matched with asparagus, cheese soufflé,
poultry terrine and sushi with white fish.
Region:
Sacy, Champagne
Wine Style
: Champagne, Premier Cru, Vignes de Sacy
Colour:
Y
ellow with bright, glossy green golden hints
Vintage:
NV
Grapes:
35% Chardonnay, 32,5% Pinot Noir, 32,5% Meunier
Alcohol content:
12%
WINEMAKING
:
Complete malolactic fermentation
Dosage: 11 g /l
TASTING Nose:
Fresh fruit and candies, followed by notes of tea flower (lime, mint, verbena), white fruit
and a spicy touch like curry, ginger and tobacco
Palate:
Some tonic with a small hint of citrus

SERVING Serving temperature:
Between 8° and 10°
---